I am currently writing this at a friend's house, sitting on the couch while her son is sleeping until she gets home. My laptop has about one hour of battery life left, so she better get here
soon
, especially because her internet is SHIT. I don't usually curse, but seriously, I already have a slow computer, and this internet is making it unbearable.
This week was one of the best weeks I've had in a really long time. I've realized just how lucky I am in so many aspects. One of them being my amazing boyfriend. He has been such a tremendous help this week. He helps
so much
with Travis, which is more than incredible because dads aren't really as hands-on at this age as moms are. But he is so great with him. He'll change diapers, play with him so that I can sleep, and so much more.
Like today, I was cleaning up from dinner, and he realizes that it's time for Travis's bath, and without saying anything, he fills the tub, gets Travis undressed, and starts giving him a bath. It's just things like that. Plus, we
never
argue. I have no reason to get angry with him. Sure, sometimes things frustrate me, but I get over it easily. Either I let him know, or I just realize that it's not that big of a deal. After talking with a few friends about problems in their relationships, I've realized just how lucky I am in mine.
Just in case you missed it this week,
I shared with you our new hobby:
bowling
!
I listed
ten things
that make me happy.
Travis had his
first day at the pool
! (And be sure to enter my May Sponsor Giveaway!)
I opened up and shared a
few things that I'm struggling with
right now. You guys really are amazing and so kind. :)
And I had
my first Mother's Day
this week!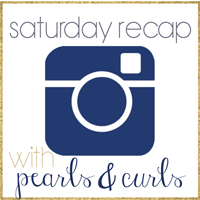 I just love this picture. Jon and I could not stop giggling at how cute he looked in this outfit. (Although if Jon ever read this he would say that he does NOT giggle.)
Our first time doing tummy time with the boppy pillow! He's got such great neck strength! Whenever he's on his belly, all he wants to do is crawl! He's only three and a half months old and he's already frustrated that he can't move! Hold your horses, there, Travis. :)
Travis loves his keys. And I love that he can grab onto them and stay content with them for ever. Until he throws them.
We got our Paci Plushie in the mail!! You guys just wait, there will be loads of cuteness when I take pictures of Travis using this guy!
Isn't he just adorable? Yes.
My boy and me on Mother's Day. :)
My dad got this for me to help me out with my kitchen woes. You can read about that here.
I love his eyes in this one. He's starting pulling his pacifier out of his mouth. I can't wait until he'll be able to put it back in! Haha
Chillin' on the couch, again with his keys! :)
I came home to this after an advisement appointment at my school. Passed out. :)
Travis and my sister! :)
I love how the cat just sits like this. We have multiple pictures of him in this pose.
My Mother's Day present from Jon! We actually just got it drilled on Thursday, and I cannot for the life of me figure out how to throw it. It keeps getting stuck on my thumb, but the guy drilling it says it's my fault and didn't want to keep drilling it. >.< I'm just way too used to a house ball, I guess.
Travis discovered his thumb!! He still sucks on his whole hand sometimes, but other times, it's just his thumb. It's so cute. I'm not sure which is worse, sucking on a thumb or a pacifier!
I love this picture of us! I think I'm getting Travis into a bad habit of only being able to nap when I'm holding him. As soon as I put him down he wakes up. But I just love cuddling when he's asleep so I can't help it!


Be sure to follow me on Instagram @chlxee!